P O S T . . . . . B E L L S

December 18,1997
the abstrakt zone is the empty space; that is, it is malleable and able to take on the character and energy of those who come and participate. so thank you for everyone who showed up, and thank you to the artists in the back half who presented some fantastic art work and a very big thank you to Karma Moffett and Feather who's musicianship and guiding voices truly led us on a journey and also to Ronin who spun a very nice late set.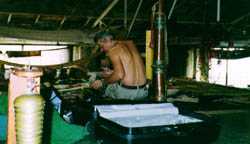 so this is the hit for bells. the holiday season is really an insane time (where did all these people and their cars come from) and somehow every year we all complain how the holidays don't really reflect it's original intention: the warm gathering of friends and family to witness the passing of another year, to make new hopes for the next and to simply share. I suppose some of that intention was restored last night; and as for gift giving, well I for one am very happy about this zone as it is also my home. I get to have the lingering energy that colored this space close to me for sometime and what an energy it is: really warm, really deep and really beautiful. thank you all.
favorite comment for the night: zak who said 'I love this because this has nothing to do with the last Abstrakt Zone, and everything to do with it...'
yup.
and resonance, well for all that were here, I'd say resonance is not always a physical phenomenon but it passes through to other realms.

the next zone? perhaps CRUNCH, jan 29th,1998.


- - -
z o n e s